If it's literally been a few years since you've planned your last overseas holiday and it all just seems a bit daunting, you're not alone. Luckily, there are ways to put your mind at ease. At Chandra Villas, the health and well-being of our guests and employees have always been our top priority. That's why we're so pleased to announce that Chandra Villas is officially CHSE Certified!
What is the CHSE Certificate?
The CHSE Certificate was created to make travelling to Bali safer and more comfortable. The acronym CHSE stands for Cleanliness, Health, Safety and Environmental Sustainability. The certificate is awarded to villas, hotels and other tourism providers that meet the strict requirements set by the Indonesian Ministry of Tourism and Creative Economy. Simply put: the certificate helps travellers enjoy Bali with peace of mind.
That Chandra Villas has been given the coveted CHSE seal of approval means that we have gone the extra mile for our guests' safety and comfort. We've passed the rigorous inspection process with flying colours and our operations check all the boxes for hygiene, health, safety and environmental sustainability protocols.
So how will the certification benefit our guests? Let's find out!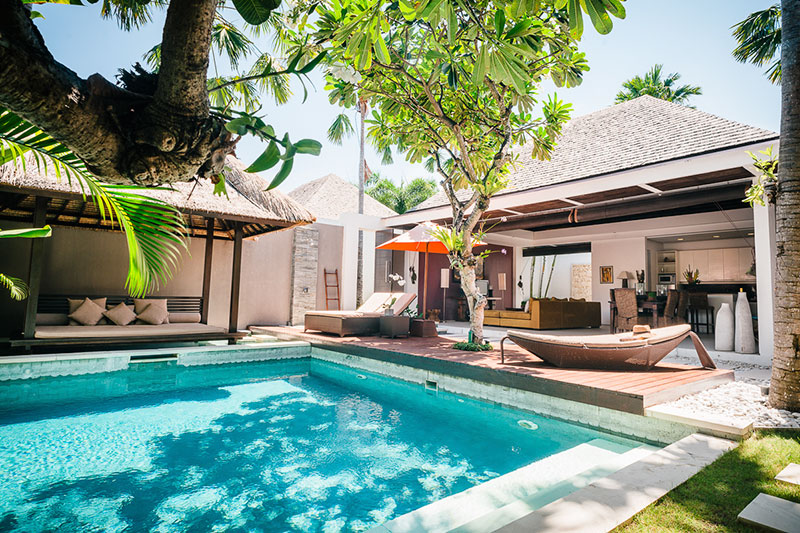 Benefits of booking CHSE Certified accommodation in Bali
Highest hygiene standards
One of the key criteria for being CHSE Certified is meeting high standards of hygiene. In other words: our villas are officially sparkling clean! From public areas to your private villa, you can rest assured that all our facilities are regularly and meticulously cleaned; that high-touch surfaces are routinely disinfected and that hand sanitiser is readily available throughout the property.
Trained and knowledgeable staff
When you're on holiday, you really don't want to waste any time worrying and wondering. As a CHSE Certified accommodation, our staff have been trained on all current health protocols and local regulations and will be ready to assist you at all times. Because our team is guaranteed to follow all the necessary protocols, you can fully relax and enjoy your stay with peace of mind.
Verified safety features
The CHSE Certificate guarantees that our staff always prioritise the health and safety of our guests and that we follow all government regulations to ensure you have a safe and comfortable stay. As protective measures, our staff wear face masks and maintain social distancing at all times. The CHSE Certificate also means that Chandra Villas has clear contingency plans in case of emergencies.
Environmental responsibility
Passing the CHSE Certification process also means that Chandra Villas operates in an environmentally sustainable way. Preserving Bali's beautiful nature is something that's very close to our hearts. Our environmentally friendly practices cover everything from sustainable waste management to minimising the use of single-use plastic.