Post updated: 19th November 2019
Nutrition and diet can go out of the door while on holiday especially when it's so easy to let loose and indulge in new flavours and temptations. However, if you're the kind of person who believes in staying fit all year round and find joy in the newly emerging clean cuisine, then Bali is just perfect. There are plenty of clean eating restaurants and cafes to keep up with your healthy lifestyle while living it up in beautiful Bali.
With a mix of raw, organic, vegan cafes and traditional Balinese warungs, it's hard to find a bad meal in Bali. We've handpicked our favourite nutritious cafes and clean eating restaurants around Seminyak, Petitenget and Canggu.
The Clean Eating Guide to Seminyak and Canggu
Kynd Community
We'll start the list with one our favourites and most popular place in Seminyak for clean eating. This health food institution is the best place to get your food fix – refreshing salads, fruit frappes, and a few other hearty meals. The nutritious menu is large and caters to all needs- at Kynd they pride themselves on showing you just how good plant based food can taste. Kynd Community is more than just a cafe, its a place where you can visit for breakfast, lunch and dinner, plus enjoy a cheeky Kynd Creamery icecream for a sweet treat.
Shelter Bali
Fresh, delicious, nutritious-conscious food is what expats and tourists alike have come to expect from Shelter Bali. Known for being a trendy hub for creatives to come and connect over a cup of coffee and tasty meal – Shelter Bali is a lush green rooftop garden which is perfect for people watching.
Alchemy
Vegan heaven, that's Alchemy for you. With outlets in Seminyak and Ubud, this 100% raw vegan café is complete with a juice bar and a chocolatier offering wholesome salads, smoothies and raw treats. This cafe certainly acts as your one-stop-shop for all things "health". Pick mixed greens and salads with unique toppings from their salad bar and don't miss their home made smoothies.
Café Organic
Yummy and nutritious food is a guarantee at this cool Seminyak café known for super-foods, super-smoothie bowls and nutritious meals. Their almond lattes and iced matchas are a must try! This café is 100% Vegetarian, with a few vegan, gluten Free and raw options. They are known for converting meat lovers to part-time vegetarians and smoothie bowl haters to lovers.
Sisterfields
Enjoy the iconic café culture of Australia right in the heart of Seminyak at Sisterfields. This is a favourite spot for travelling foodies to enjoy good, nutritious food and great coffee. Sisterfields serves an all-day breakfast, brunch and lunch menu alongside a wide range of coffees, cakes and pastries. This café is quite popular during peak lunch hours and you'll often see a long queue so be prepared to wait.
Quince Bali
This is a great place and a must visit café in Canggu for nutritious food. The service, the menu and the food is amazing! Craving for something sweet? Try their coconut frappucinos and homemade ice cream.
Milk and Madu
Milk and Madu in Canggu is local family cafe, very popular for their all-day breakfast, superb lunches and signature revolver coffees. From refreshing acai bowls to super smoothies (go for the green monster) and legendary salads, Milk and Madu has all of your home favourites with a Balinese twist.
The Shady Shack
This stylish but cosy, vegetarian, nutritious food café overlooks the rice fields in Canggu and serves up some really delicious options. Turmeric lattes, a Nori bowl, onsen eggs and raw banoffee cheesecake, you'll find food in every colour of the rainbow at The Shady Shack. This is a must-visit place if you're looking for clean-eating vegetarian places around Canggu.
Betelnut Cafe
Nestled in the heart of Canggu, Betelnut Café is a great place for casual lunch with a beautiful view of the lush green rice paddies. The food fare is organic, vegetarian nutritious food made with love. Try the popular Betel bowl or mains like burgers, salads, wraps, Mexican burritos and refreshing fruit juices.
Nook
Nook is a cosy warung in Umalas, just north of Seminyak, serving excellent Indonesian food in the most picture perfect setting right in the middle of the paddy fields. It's a great place for lunch or to catch a meal just before sunset so you can make the most of the stunning views. Try their chicken satay and spicy beef redang.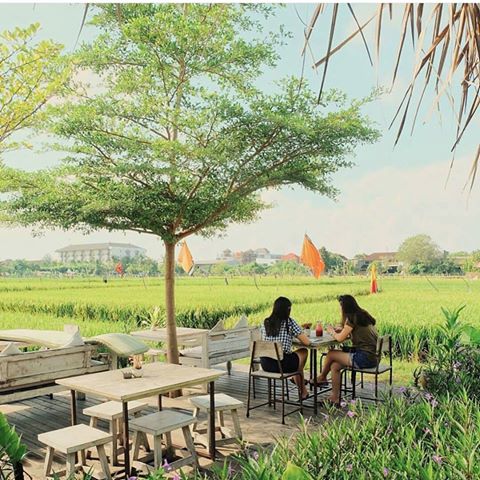 With an abundance of cafes serving fresh fruit shakes, acai bowls, raw salads and exceptional coffee, Seminyak and most of Bali is a culinary delight for the health conscious. Even the most popular restaurants like Sarong, Mama San, La Lucciola, The Living Room have nutritious meal choices so you don't miss out on the best food on your holiday.
If all of this isn't enough to keep your taste buds going, our chef at Chandra can customise meals as per your dietary needs. Fresh fruit juices, eggs made as per choice, salads and dragon fruit smoothie bowls, we have plenty of nutritious in-villa dining options to keep your stomach happy.
Image Credits:
Feature Image, Cafe Organic, Sea Circus and Sisterfields – Janni Deler